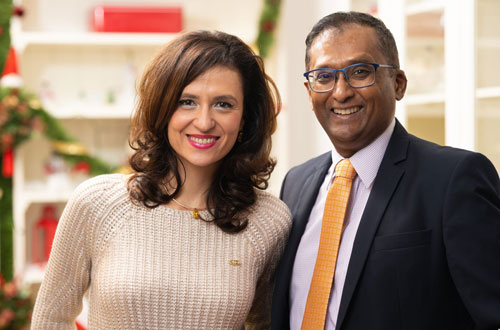 REALTOR®️ | SRS®️ | PSA®️
BLISS Imobiliare has been active in the Romanian real estate industry since 2006. Since then we have acquired an excellent reputation based on our high professional standards and commitment to our clients.
Our company and our team work closely with real estate owners and users, as well as investors; using a comprehensive and integrated approach to meet their real estate needs. As a professional and established boutique real estate consultant in Romania, we have acquired an extensive knowledge of real estate development and trends in Romania during our operation since 2006.
We offer intermediation and exclusive buyer/seller representation services where we are very powerful in matching demand and supply. This we amplify by our inhouse developed property management and marketing software solution.
For expats we are one of the leading agencies for your home finding in the new country you will settle. BLISS Imobiliare has one of the most extensive portfolios of rental properties. Many multinationals and Embassies have already found the homes for their expat employees through our company.
For companies we offer the sourcing of new office space. Being it from an apartment in a villa or block to Class A green certified office buildings. For settling in we are also able to assist in space planning and fitting out your new or existing office space including supplying quality office furniture through our extensive partner network.
For investors looking to purchase property in Romania we offer professional, reliable, and profitable solutions. including the purchase of lands for development and a full one shop solution from Due Diligences, authorizations, engineering/construction until sales and marketing and your exit on project developments.
In addition to working with those wishing to buy, sell or develop real estate, we offer Property Management services for investors looking for income generating units, but do not want to be bothered with the operational challenges. Our Property Management team will assist you with all business matters relating to renting & operational management of your property. This includes appraising your property to determine a suitable rental price, negotiating the lease, rental review, managing maintenance, account management and dispute resolution.
Our Property Management team are also able to assist those seeking residential or commercial properties to buy or rent in Romania.
We speak Romanian, English, Dutch and Spanish!  
Contact us for more information at 0040(0)729 005 624 or send us an email at [email protected]
Contact us now and experience your own BLISS! Find here our contact form
BLISS Imobiliare is your partner for 

Buying - Selling - Renting
Residential - Land investment and development - Offices 

Property management - Evaluations - Consultancy
Member of The Netherlands Romanian Chamber of Commerce NRCC
Member of The Belgian Romania Chamber of Commerce BRCoC